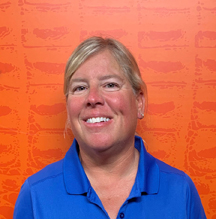 1:1 with Coach Jen Murphy
• A personalized 50/55-minute technique consultation
• Learn specific drills based on your stroke strengths and weaknesses to incorporate into your training.
• Live video capture throughout the session, giving you immediate feedback on your stroke
• Learn and practice strength and conditioning exercises to support your efficient swimming technique
• Race strategy consultation
• Mental training tailored to the client's individual needs, including character development for the college-bound student-athlete
RIGHT NOW
Coach Jen is responsible for the Senior Flex group at Gator Swim Club. The Senior Flex Group is for primarily high-school-aged swimmers who have chosen not to commit to the rigors of the higher-level groups or still need a bit more stroke instruction and training to make a move up.

COACHING RECORD
Coach Jen swam for the Greater Columbus Swim Team of Ohio and has continued to fuel her love for the sport by coaching at the grassroots level.

INTANGIBLES
Coach Jen knows there is a place for everyone in the pool – you just have to find it! She will help any swimmer in the pool build their strengths and correct their weaknesses while pushing them to strive for their goals and have fun simultaneously!

For a complete bio on Coach Jen Murphy, click here: Coach Jen Murphy.